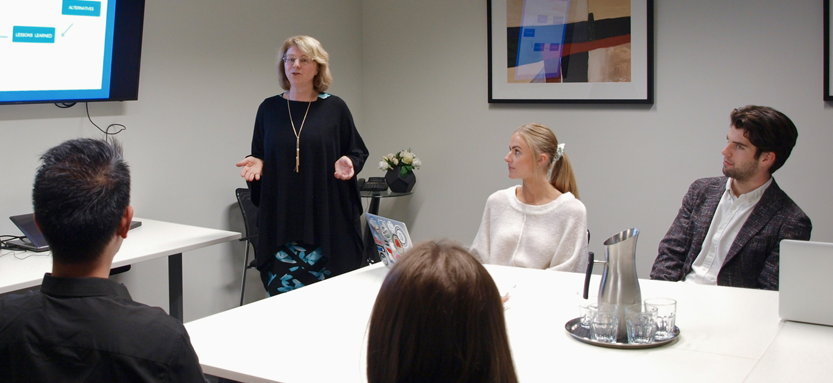 Creative Thinking and Idea Generation
This workshop will get your team involved as they learn to open their minds, expand their vision and unlock their creative thinking abilities. They will discover how to fully engage the right and left sides of their brains, hold back the what-if's and fully explore the power of group brainstorming, knowledge bouncing and idea generation. Hands on activities and interactive learning designed to take your future strategy meetings to the next level.
Managing Stress – Body and Mind
This Workshop takes a two-fold approach to examining stress and taking back control, both within and outside of the workplace.
Body: Learn how diet, sleep patterns and daily habits may be impacting on your stress levels. We will share ways to make small changes and create noticeable improvements.
Mind: Identify the key triggers of stress and find out how to take back control.
Easy and practical methods for managing stress, anxiety and overwhelm. Free up
your headspace so you can focus on what really needs attention, rev up your
productivity and still feel good.
Profiling in The Workplace
Dealing with different types of people and personalities can be challenging at times, particularly in the workplace. Profiling can assist leaders to improve communication, performance and productivity at both individual and team levels and allows a better understanding of natural behaviour patterns, motivators and communication styles which can be used for real results in the workplace.
Understand what behavioural profiling is

Discover the natural energy styles and how they motivate us

Learn communication and language clues

Practical applications in the workplace for real results
Growth Mindset – Leading Through Change
What is your attitude to change? How does it translate to your team? Change in the workplace can create uncertainty, frustration and an emotionally charged environment. Covering Growth vs Fixed Mindset, Effective Communication, Emotional Intelligence and Change Leadership, this hands on workshop will help you navigate workplace change and shine as a leader.
Resilience in the Workplace
Resilience is crucial for leaders and stakeholders in the workplace. We are often dealing with time constraints, conflicts, lack of resources and other pressures, where emotions and stress can manifest in undesirable ways. This workshop includes identification of triggers, the difference between stress and mental health issues, highlighting and managing emotional behaviour patterns, how we process and release negative emotions, victim cycles and potential health issues. We then share easy to implement solutions and tools for both physical and emotional resilience, for yourself and to support and empower teams within the workplace environment, including your own Individual Resilience Plan.
I have been with the same company for nearly 10 years. Although in a leadership role and successful, I felt burned out, stressed and unhappy at work. This was impacting my work /life balance as well as my interaction with others. I needed to re-evaluate my career priorities and level up my communication skills. Cheryl took the time to listen and understand my situation. We worked together to better understand my strengths and values and how important it is for them to be congruent with my career development. With Cheryl's guidance I focused on the steps I needed to make to remain myself, whilst becoming a better leader at work. Cheryl's style, attitude and easy to follow steps are pragmatic and realistic. She provided me with tools I could use every day to remain focused on changes I needed to make to achieve what I wanted.This is an ongoing journey but I am now more confident, have a deeper understanding of both myself and others, have the tools to perform better at work and am maintaining a more fulfilling work-life balance.
I met Cheryl as I started a personal journey in seeking greater clarity for my career. It has turned into much more and I am most grateful to her for helping me understand myself much better as well as how to interact with those around me. Both professional and private. Cheryl has been a source of strength and insight. Her warm and friendly nature makes it easy to relate to her. She challenges the status quo and help me improve many aspects of my life. A number of my colleagues have spent time with Cheryl and all feedback has been positive. I would highly recommend her.
We were lucky enough to have Cheryl come to our Annual Team Conference where she presented a Creative Thinking Workshop for our Team. I would high recommend Cheryl and the workshop for anyone who is looking to open their minds and expand the vision of the business. The workshop was highly interactive with the concepts and ideas being able to be implemented relatively quickly and simply into our business.
I have seen and worked with Cheryl on a number of events and projects she is a part of. So when it came to organising an EA/PA Networking event, I knew she was the right person to be our guest speaker. Cheryl is an engaging, humorous and energetic presenter, who can relate easily to a room of 10 to 100+ people. She brings a world of knowledge and experience to her presentations and her real-life business examples reinforce the messages she presents. Cheryl is definitely someone I would recommend to present at any corporate workshop.
I attended Be Ultimate's workshop on Stress Management. It was amazing! It was exactly what I needed to understand how to manage my busy days. Cheryl taught us practical, easy to implement strategies that worked for me from day 1 and I haven't looked back since. I highly recommend Cheryl as a coach, and recommend her 2 hour workshops for anyone.
I have attended two LinkedIn workshops run by Be Ultimate and I have found them to be extremely informative, professional and succinct, whilst also being very personable and fun. I have already implemented new content and knowledge learned at the workshops ... starting at the actual workshops itself!
Thanks for your fun and informative workshop sessions.
Cheryl provides an incredible bouncing board to lead you through your journey of reinvention or simply to gain reinforcement that the path you're on is the right one. Cheryl is an awesome person who truly cares for other people, wants to see them achieve their goals, isn't backward in coming forwards when you need the prod in the right direction and will encourage you to see the great results you are accomplishing when they may not be as obvious to you.
I highly recommend Cheryl to anyone who is looking for business advice, a change in career or simply wants to gain some solutions to taking a positive approach to life.
Cheryl has facilitated a number of conferences for Liquid Learning in both Australia and New Zealand and has always been a pleasure to work with! Cheryl is helpful, punctual, reliable and always professional. She is very skilled in keeping the conference running to time and lifting the energy of the room as she facilitates Q&A sessions. Cheryl also frequently runs workshops with us and does regular speaking spots which she always receives great feedback for.
With the majority of delegates rating Cheryl's keynote presentation at the IOPO Conference 5 out of 5, she exceeded our expectations! Cheryl is truly passionate about helping businesses to succeed and thrive.
Cheryl has been a delight to work with over the past 7 years. She has assisted our business, Independent Garden Centres, with professional development workshops, she has been of great support to me as a coach. Cheryl has emceed the last two annual IGC Retail Conferences with an engaging and fun style, and she has been one of our conference keynote speakers who held the undivided attention of the delegates with ease. I thoroughly recommend Cheryl Alderman in any of these capacities. Cheryl is a consummate professional who quickly builds rapport, she clearly enjoys sharing her knowledge with others, and there is always an element of fun which oft missing in many professionals.
In this workshop we were introduced to a range of simple strategies that the group could adopt to manage the inevitable stress and tension experienced in corporate and every life. The cynical group loved the practical and interactive approach of this workshop and were highly engaged throughout the 2 hours. The presenters brought in lots of great exercises. I am happy to recommend this Managing Stress workshop and both presenters to other corporate groups.
Working with Cheryl has had benefits that have reached far beyond me as an individual. She has helped me to become a better leader and elevate the effectiveness and potential of my entire team. Cheryl's coaching has raised my self awareness, shifted my focus to control what I can control, and given me tools to realise opportunities that I wouldn't have thought possible before our first session.