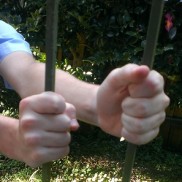 We have all experienced the feeling of being in over our heads. The pressure is on, but we can't see the light at the end of the tunnel. We have too much to do, not enough time and no one can help. We start to feel the pressure. Emotions rise up and stress levels increase. Negative chatter is at its peak in our heads.
Words like "can't" are at the top of the pile. Our thoughts are erratic and swirling around in our heads clouding our judgement and preventing us from focusing clearly. We feel panicked and out of control.
This is the feeling of being overwhelmed.
The good news is there are some easy tricks to breaking free from overwhelm which you can use to bring yourself back to a state of calm and control. Our brains are easily out-manoeuvred… when we know how.
1. Look up
Your brain will go to its visual cortex when your eyes are directed upwards. This will pull you out of the emotions that are taking you over. Look up at the ceiling or the sky and speak or sing out loud, (or even count to ten). By engaging the visual and audial, your brain will nicely occupied and hence release you from the undesirable emotional state you had been in.
2. Breathe
When we are in heightened emotion our breathing is erratic and sitting high in our chest. This means our brain is receiving insufficient oxygen which adds to that feeling of chaos.
Take a slow deep breath in through your nose, pulling it all the way down, so you can feel your lungs fully inflate, then breathe out slowly through your mouth in the sound of an S. (ssssssssssss…like a snake)
Repeat three to four times. Your oxygen will regulate, your brain will be clearer and you will notice a shift in your emotional state.
3. Move
Get up out of your chair and move your body. Go for a walk, run up and down the stairs, go to the bathroom or check the mailbox. It doesn't matter what you do. It's breaking the state that matters. Again we are looking to engage the brain elsewhere so we have time to refocus and regain control.
4. Take a break
Often when we hit overwhelm it's because we have been focused on a single task for an extended amount of time without a break. We are trapped in a cycle and can't think around it. Too often we work through our lunchbreaks or remain at our desks for extended periods of time. Our brains are like our bodies, if we use them a lot we must allow them to rest also. Even ten minutes of downtime can completely reframe your perspective when you return to task. There are some great brain wave apps now too. You can plug into your phone and meditate for twelve minutes, with the same result as a two hour nap!
Apply one or more of these to outwit your brain and you will give it time to reboot, so you can begin to think clearly, refocus and come up with solutions, instead of stressing out.
The next time you find yourself in a state of overwhelm and those emotions start to rise up give it a shot and notice the change.
You ARE smart enough to outsmart your own mind!
If you are experiencing severe stress or feelings of overwhelm look out for our Stress Management Workshop, or call us for information on our Individual Coaching programs. Ph: 02 8011 8114 or 0418 490 422. We are here to help.