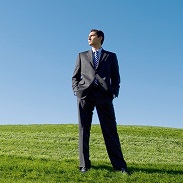 People are often surprised to hear that I work regularly with Managing Directors, CEO's and other leaders in business. "What do they need a coach for?" they ask. "They are at the top, they make loads of money, they have it all don't they?"
It's a common misconception that if you are successful in business and make lots of money that you should be happy. Leaders are seen as the role models, the example of what to aspire to, decisive, courageous, innovative and driven. They can be placed on a bit of a pedestal. It's easy to forget that they are also human.
Often those in leadership roles are required to do a great deal of travelling. To other branches, clients, conferences and overseas. This can make availability for everyday social activities difficult-to-impossible to arrange and commit to. Dis-connection from family is common and it is hard work to create and maintain relationships. (Those in the higher business salary bracket also have a higher divorce rate.)
Leaders generally don't want to appear vulnerable to their peers or staff, so sharing issues, difficulties or feelings with workmates is unlikely. They can't talk to their wives/husbands about business and they can't talk to their workmates about their wives/husbands, so they don't talk to anyone
Honest feedback is difficult to come by when you are at the top. Are your staff agreeing with you because you are the boss, because they want to make a good impression, or because they really do agree? How can you tell? What aren't they telling you?
The executives I work with want to talk strategy and work on developing business skills, but they also want to interact. They are looking for feedback, to be challenged and stretched, share their problems and have open, honest conversations. Like everyone else they want to feel valued, be heard, achieve quality and balance in their life and discover how to be the best and happiest version of themselves.
CEO's are people too, just like you.
If you are interested in learning more about our Executive Level Coaching Programs, have a look around our website or give us a call on 0418 490 422.