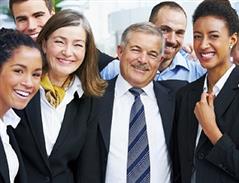 The Generation Gap is not a new concept, but the impact of mixing Baby Boomers and Gen X'ers with Millennials in the workplace has raised interesting challenges for today's corporate leaders. Without an understanding of the key differences in mindset, motivators, values and attitudes, leaders can find themselves dealing with conflict, resentment and negativity between staff members.
To leverage the benefits of Generational Diversity it is crucial to understand the key differences and how to effectively lead your teams to work collaboratively and positively together, regardless of age differences.
These three focus areas will start you off in the right direction.
1. What Communication Means
Baby Boomers and Gen X are happy to join a conversation, call a meeting or pick up the phone and call someone for business questions and discussions. Gen Y (Millennials) tend to defer to email and text (sms) as their preferred tools, often using their portable devices, and avoid phone calls where possible. All of these methods can be effective in the right context.
Clarification around preferred communication methods and etiquette within the business environment will help keep everyone on the same page and prevent judgement and misconceptions.
2. Respect Goes Both Ways
Older generation employees often share with me, how disrespectful the younger generations are. They use words like "pushy and entitled" to describe their younger cohorts. In return, young employees tell me that they are "overlooked, ignored and dismissed". Neither side is feeling or giving the other the respect they deserve.
Respect goes both ways. By encouraging senior workers to share knowledge and mentor younger staff, Gen Y begin to see the deeper value of their experience. Implementing open and inclusive innovation and brainstorming sessions within an organisation will showcase the new and creative ideas that Gen Y bring to the table. Understanding and recognising the value of each individual is a big step towards mutual respect.
3. Work Ethic
"If you want to get ahead work harder" is the ethos of the Baby Boomers and Gen X. Do your time, be loyal, and you will move up the ladder. The eight hour day and five day week are the practical applications of getting ahead for Baby Boomers and Gen X. They often see Gen Y as lazy and unfocused. This is because Gen Y are more results focused and believe in working smarter, rather than harder. They like flexibility and variety in regards to their hours and workspace, and are much more aware of work/life balance. They want to get ahead, but not at the expense of their lifestyle. They can also multi-task and work at a faster pace, so their time at the desk isn't necessarily related to output.
By directing the focus to highlighting results and outcomes, leaders can enable recognition of individual strengths and achievements rather than just time investment. Encourage feedback and input around processes and improvements, and work with senior staff to help them understand the benefits of a flexible workstyle.
The real key to successful generational diversity is open communication and a willingness to look at things from other people's perspectives. With understanding and inclusive leaders at the helm, multiple generations can work cohesively to the benefit of each other and the business.
Generations – Remember the past, Create the present, Inspire the Future
If you are having generational issues or would like to talk to us about our People and Culture Assessments or Coaching Programs you are welcome to contact us for more information.