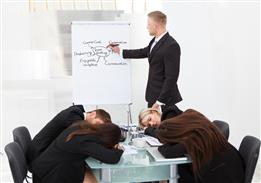 Happy teams are more productive, communicative and invested in their work.
However, when staff become unmotivated and disengage, it can have a major impact on the results, stability and long term success of a business.
If you are experiencing two or more of the symptoms below, it may be a warning sign to shift your attention and focus to the people who keep your business running.
1. Complaints and Criticism
Unhappy teams are more likely to focus on the negatives. They will pick up on every issue, glitch and problem with your systems and processes, other staff and managers. Meetings become a battle ground or a misery pit with lots of finger pointing and blame. Solutions are becoming more and more difficult to find.
2. Sickies Late Starts and Long Lunches
When people are working within a negative culture, avoidance becomes an attractive strategy. They get up in the morning dragging their feet and can't wait to get out at the end of the day. Clock watching becomes a team activity and that minor headache becomes a convenient excuse for a day at home.
3. Personality Clashes and Emotional Outbursts
Arguments, gossip, tears and other emotional behaviours will become regular occurrence within a negative culture. Professionalism goes out the window as stress, uncertainty and tension get in the way.
4. Quality Staff are Leaving
When your long term, experienced staff start to fly the coop it's time to take a good hard look at the business culture. There will always be natural transition, but consistent turnover is always a sign of a bigger problem.
5. Tangled Communication Lines
"He said – she said" becomes an everyday thing. With staff not communicating directly to their managers, and managers not communicating between themselves, soon no-one really knows what's going on at ground level. Lack of clear communication lines or faith in management is a regular factor in poor culture environments.
A positive company culture has solution based meetings, positive and interactive teams, stable staff turnover, effective and professional communication and a "we are all in this together" atmosphere.
It's a WIN for the individual – a WIN for the team and a WIN for the business!
Cheryl Alderman
Business & Executive Coach
Not sure where your company culture sits?
Give us a call for a conversation about our Workplace Culture Assessments and Business Culture Coaching and Training Packages. Contact Us