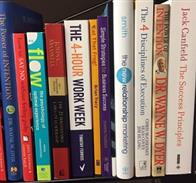 I often give books to clients to support and compliment what we are focusing on in their coaching sessions. There are so many great business and leadership books available. Recently I was asked by a colleague to name my five top picks, for executive level clients. Thought it might be good to share my list with a wider audience, so here goes:
Number One: The 21 Irrefutable Laws of Leadership – John .C. Maxwell
John Maxwell steps through every quality a good leader needs, with great real-life examples to really connect you to the messages he is delivering.
Number Two: Conversational Intelligence – Judith .E. Glasser
Judith explores and explains communication, effective listening and how to really leverage the power of conversation.
Number Three: Speed Thinking – Ken Hudson
Head full of stuff, but have trouble pulling out what you need? Ken's simple method teaches you to extract ideas and information out of your own mind, quickly, creatively and ready to put into action. Great for problem solving and decision-making too.
Number Four: Drive – Dan Pink
Understanding motivation is crucial to keeping yourself on track, as well as your team. (Dan also has a great TED Talk on the subject.)
Number Five: The Success Principles – Jack Canfield
An oldie but always a great read! This book is like twelve of the best personal development books, condensed into a single super-whammy package. You will read, re-read and re-read again to keep your success mindset in peak condition.
These five books all deliver quality content that is relevant for anyone operating at senior executive or management level. Develop yourself, develop your career.
Enjoy!
Interested in Executive Coaching? Find out more here: https://www.beultimate.com.au/