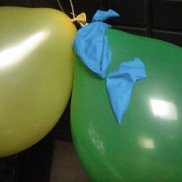 Have you ever noticed that whenever things are going really well for you, a moment of achievement or a change in your life direction which has filled you up with purpose and motivation, there are always naysayers around who delight in popping your balloon?
They may manifest as workmates, friends or sometimes even your own family, but they have their sharp pins at the ready to deflate your 'big ideas' or accomplishments. "Reaaalllyyy???" they say, in an incredulous tone.
"Ooohhhh, that's awfully risky…"
with an ominous lilt. Let's not forget the
"that's nice, but did you hear about…?"
of indifference.
As the air slowly seeps out, your enthusiasm wanes, you begin to feel defensive, hurt and perhaps even reflect the negative connotations back onto yourself as self- doubt.
"Maybe they are right? Who I am kidding, I can't really do this."
The conversation moves on to other topics, but the pin prick still stings, the air is still leaking out. A mark has been made in your self confidence and your balloon is deflating.
Don't let them do that to you anymore! There are ways to survive balloon poppers!
The first is to recognise that it's actually not about you at all, it's about them. People who perceive themselves as trapped in an unfulfilling life or have a lack of self- esteem will sometimes seek to empower themselves by putting down others. By pushing down the positives in the lives of those around them, they can avoid feelings of inadequacy about their own situation and inflate their own sense of personal power.
This is their issue, not yours.
Secondly, what you perceive as a negative comment may actually have been given with a positive intention. If the balloon popper is someone who lives very much "inside the square" and you are stepping out, to them this maybe a huge risk. The mere thought of this could send them into a spin, leading them to verbalise their alarm, because they genuinely care about you. The desire to protect those we love is a very natural reaction. It is important to recognise this, but again, remember this is their perception not yours.
The most effective tool to ward off balloon poppers is to surround yourself with balloon blowers. These are the people who admire your balloon when it is full, top it up when it's looking a bit flat, and are quite happy to huff and puff when the knot comes undone and the whole balloon seems to have deflated and lost all of its vitality.
Make sure you have people around you who love to see you achieve, but also support you when times are tough. People who give you boost up when you need it, listen when you are down, but enjoy your successes too, because they want to see you happy and fulfilled.
In return you can offer them the joy, colour and fun that comes from playing with your balloon…they may join you on your journey or just enjoy witnessing you soar through the air. You can do the same for them, be their balloon blower.
These people are the ones who will allow you to pass by the balloon poppers. Your balloon will be strong and resilient and a tiny pinprick will barely scratch the surface! The balloon poppers may appear again and again but they won't succeed.
Look around, how many balloon blowers do you have in your circle? Enough, or are you surrounded by balloon poppers?
It's time to make a change. To look forwards. Rise up and float away from the doubters.
Find the balloon blowers and watch how your life takes off!
Balloon blowers also attract other balloon blowers, so before you know it there will be a whole bunch of you!
One balloon is fun, but a whole bunch of balloons is even better!!!
If you want to stop worrying about what other people think and learn to believe in yourself again, we can help. Contact us at Be Ultimate to find out more about our Individual Coaching Programs.
Sydney Location. Phone and Skype available for out of area.