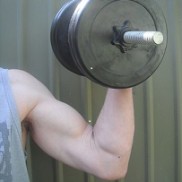 Are you the rock who everyone comes to with their issues? Workmates, friends, family…
Are you the person everyone counts on in a crisis? The solid reliable one…that everyone depends on to hold it all together and work out what to do? Is it you who organises things so that everyone is in the right place at the right time, projects are completed on time, disputes sorted out, finances dealt with?
If you have answered yes so far, then let me ask you this…
Have you noticed that if something is bothering you, you tend to just push it to the back of your mind and get on with life because you just don't have the time, energy or inclination to deal with your own issues? Even if you did, is there anyone there that you can talk to or will understand what you are going through? Someone for you to offload to?
You may be suffering from 'Strongman' syndrome, and if so I would hazard a guess that you don't have a shoulder to lean on for yourself. You are more than likely, your own shoulder, and just deal with life as it comes and get on with it. (Incidently this can also apply to women)
You are resilient, tough, solid.
It can be damn exhausting can't it!
Carrying around all that responsibility for others every day, as well as your own issues (shoved into a dark cupboard at the back somewhere) is a heavy load to bear. Like any load that you continuously carry around, it gets heavier and heavier with time and eventually starts dragging you down. This can lead to resentment as you wonder "when is it my turn?" and "why do I always have to be the one to save the day?" Alternatively it can create stress, leading to irritability which often descends on the very people you are trying being strong for. In time the load can become so heavy it manifests in health issues like obesity, ulcers and high blood pressure.
Not fun.
As human beings we need an outlet, someone to offload to, bounce off or just share a good vent with. The problem is that if you are a 'Strongman' this is the least likely thing for you to do. Strongmen keep it in. Strongmen just cope with whatever is going on. Strongmen just get on with it.
The good news is that although in our parents's day the "real man" image was set in stone, our generation is more evolved. We have a greater awareness of mental and emotional health issues. We know that repressing your emotions and denying your feelings is not a good thing. We know that there is a better way. We know that it is far healthier to process our thoughts and feelings, let them out, deal with them and then move on.
If you suspect you may be a Strongman and you don't have someone to confide in or just talk to about stuff, like life, how you feel or what you are thinking, take a step, make a change today and do something for yourself. Find a mentor, a coach, or a good friend and just have a good long chat about everything. Let yourself process your own feelings, lighten that load you are carrying. It's good for you. You will feel lighter, happier, and you will bear your responsibilites with a new vigour and enthusiasm.
You CAN be strong AND take care of YOU.
You deserve it!
If you need to reduce the stress and pressure, lighten your load and in the process discover how to live the life you REALLY want to live, we can help. Contact us at Be Ultimate to find out more about our Individual Coaching Programs. Sydney location, with Phone or Skype available for out of area. info@beultimate.com.au