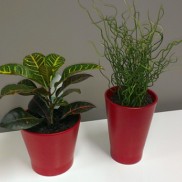 "When you're green, you're growing. When you're ripe, you rot."
Ray Kroc
Life only goes around once. We can't rewind the clock, fast forward or freeze frame (unless of course you are a fictional character). So, what we choose to do with it counts. We can choose to make the most of every day, try new things, expand our knowledge and grow, or we can choose to settle for what we are dealt, try to fit in and stay safe within our comfort zone.
Which one have you chosen I wonder?
Recently, I received a gift from a friend of two potted plants for my new office space. When I texted to thank her the next day, she responded telling me that only one was real. (to avoid fatalities!). Unfortunately, I had already watered both! Had she not let me know, I could have continued to water both plants for weeks. One would have thrived and grown, the other would more than likely turned mouldy and rotten from the stale water building up in the pot.
It occurred to me that these two plants are a great reflection of the choices we face in life.
Are you green and growing or stuck in one place, rotting?
If everything in your world is safe and familiar, everything is within your comfort zone, chances are you are not moving forwards. If you aren't moving forwards then you are stuck. If you are stuck, then you are not being challenged or learning anything new. You will avoid or miss the opportunities that come your way. Eventually boredom will set in, followed closely by frustration, disappointment and possibly regret. Not the kind of feelings you want to associate with your quality of life.
On the other hand, if you are stepping outside of your comfort zone, making choices, taking action, you will be moving! If you are moving you have new experiences. If you have new experiences you can then see and make different choices and feel the satisfaction and achievement that follows. Even if you end up moving backwards, you are learning. Taking a risk or even making a mistake, opens us up to learning and improvement, growth and self -development.
Any movement is good movement.
Take a chance on yourself today. Make a choice to embrace your life. Reach for something, step outside of your comfort zone. That's where the good stuff is! Start with baby steps, something small. It takes courage…but you don't have to be a superhero.
"Even wobbly courage is courage" Darren Rowse- ProBlogger
Attend an event you would normally avoid. Talk to someone you don't know. Make a call, book a holiday, voice your opinion, make a decision…shake it up a bit!!!
In nature growth is natural. The ripe fruit falls off the tree so new fruit can grow. Give your tree a shake and watch the new buds start to appear. It's time to create a life that's green and growing!
You only live once…so let's get started!!!
Sometimes we know in our bones what we really need to do, but we're afraid to do it. Taking a chance and stepping beyond the safety of the world we've always known is the only way to grow.

Wil Wheaton