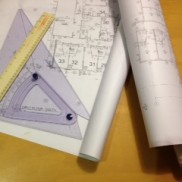 Plans are great. They give you direction. They help you to clarify where you want to go and what you want to achieve.
Everyone has different ways of planning. Some people prefer visuals and have whiteboards full of mind maps and grand designs. Others create fabulous documents and diagrams on their computers. I myself use a combination of whiteboard visual planning with more detailed planning in a large notebook.
Unfortunately, some people use planning as the perfect procrastination tool. I call them PLAN-TASTIC. They are masters of creating plans but they don't ever IMPLEMENT them.
These people have fantastic ideas. They share their excitement with those around them. They get highly motivated and do copious amounts of research and investigation. They will gather lots of knowledge, perhaps attending classes or seminars. They will form elaborate plans of what this idea will look like once it is achieved. They can answer questions and combat criticisms with ease.
But…they don't act on their plans.
They genuinely believe they are going to take action; after all they are busy preparing to take action. However before any action takes place, they either lose motivation, find the next "thing" to learn to get better prepared, or they have another great idea and move on to planning for that one!
Often the friends and families of Plan-tastics have seen many ideas and plans come and go. They may seem cynical or un-supportive, when really their enthusiasm is worn out after seeing this pattern repeated so many times.
Could you be a Plan-tastic?
Do your friends call you a dreamer or laugh when you share the news about your latest plan?
You can't build a reputation on what you are "going to do". (Henry Ford)
What if you stopped planning and took action?
Got out there and did it, instead of just talking about it?
Took a leap of faith and backed yourself?
Wouldn't it be great to finish a plan this time? To have it reach COMPLETION?
Take a good long look at your latest plan.
Choose one small task you can initiate immediately, that will move you a step closer to what you are hoping to achieve.
Do it! Just get off your seat and make it happen.
Then, choose another! (Don't think about it, just act)
Do that task too!
And Repeat! Over and over again…
Eventually, before you know it, you will be half way through your plan, with the end goal in sight!
You will also be moving away from PLAN-TASTIC,
towards COMPLETION and that's
FANTASTIC!
Need some help getting into action? Stuck in a pattern of procrastination? Contact us today to find out more about our Coaching Programmes. https://beultimate.com.au/contact/
*Special thanks to Caroline Hjorth (createmomentum.com.au) for today's photo.