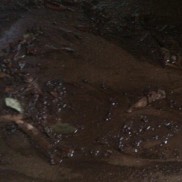 Do you remember those old primary school jokes? The ones that weren't actually funny but you would delightfully tell them anyway and laugh at your own clever delivery?
Like this one…
Want to hear a dirty joke?
A boy fell in the mud! (now picture a 5 year old rolling around on the floor laughing).
Yes, I know…it's really not funny!
What I would like to know though, is what happened next? What did the boy do…after he fell in the mud? Have you ever wondered?
Did he sit in the middle of the mud puddle crying loudly, waiting for someone to come and rescue him?
Did he embrace the moment, splashing around in the muck and then call his friends over to help him make mudpies?
Did he leap straight up, run home and shower off all the mud, before returning to school clean and ready for the rest of his day?
Did he laugh and laugh so hard that tears ran down his face and everyone around him joined in too?
How we react to the obstacles in our path says a lot about our character.
What do you do when things don't go to plan?
When you get tripped up or knocked over? When things just don't turn out the way you expected?
Do you celebrate, cry or laugh?
Life throws things in our path to remind us that we are human, to stretch us and test our commitment, to help us discover what we are really made of.
I have learned that success is to be measured not so much by the position that one has reached in life as by the obstacles which he has overcome while trying to succeed – Booker T Washington
Next time life pushes you into the mud, before you get upset, angry, or fall into victim mode, take a step back and consider the choices you now have in front of you. Consider the shower, the humour, the mudpies, and any other possibilities that lay before you. Focus on solutions rather than problem. Be flexible and creative with the different ways you could deal with the issue at hand. Get input from others, try on a few different perspectives, think outside the square.
The person with the most behavioural flexibility wins the day.
Step Up! Be THAT boy!! (or girl)
After all, eventually the mud dries up and we can all go kick a football around again!
Need some help getting back up or getting through some obstacles in your life? We can help. Contact us today to find out more about our coaching and mentoring packages. Email: info@beultimate.com.au or call 0418 490 422.