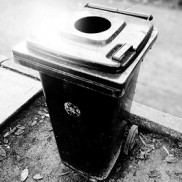 Everyone is unique. Everyone is special. Everyone has value.
Then Life comes along. Things happen. We gain and lose friends, jobs, homes, partners, obligations. People criticise us, tell us we are wrong, and we have our feelings hurt. Good things happen, bad things happen, and all of our memories are clouded by our perceptions and emotions at the time. These experiences and associated emotions all pile up on top of us, like rubbish.
Over a lifetime that can be a lot of rubbish!
With all of that clutter on top of us it can be hard to remember who we really are. Sometimes we start to believe that we are rubbish. Poor self-esteem is often attached to memories, which form evidence of our failures. The problem with this state of mind, is that we become so buried in the rubbish of our past, we begin to create limiting beliefs for ourselves. Those beliefs help to keep us safe, from the risk of failure or hurt, by manifesting as avoidance, procrastination or self- sabotage.
We might begin to feel safe buried under the rubbish, but we can also become bitter, unhappy and unfulfilled. Sometimes we are aware of this happening, sometimes it sneaks up on us gradually, but the net result is the same. We become so tainted by the rubbish of yesterday, that we fail to see the opportunities of today and the possibilities of tomorrow.
What if we choose to push through the rubbish?
Yesterday belongs in the past. Yes, it shapes who we become, helps us to see the directions we do, and don't wish to travel. Yes, it teaches us what we need to learn, but these are all tools we could use to carry us forwards. If we hang on to the rubbish we just get stagnant and stinky! Without movement we are going nowhere. Yes, moving on can be risky and yes, we might make mistakes, but we will never know if we don't make a start.
So, how about we take all that rubbish from our past, and use it for something positive? Recycle it, or turn it into fuel, to propel us towards the future we want.
Free from the clutter of our past, free to explore, free to discover new experiences. Free to be our true, unique and valuable selves again.
After all, who wants to spend their life buried under a pile of rubbish? Not me!
The beautiful journey of today can only begin when we learn to let go of yesterday.
– Steve Maraboli
If you need some help de-cluttering your past, contact us today to find out about our Individual Coaching Packages. https://beultimate.com.au/contact/