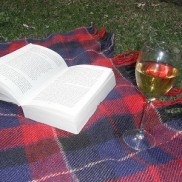 Have you noticed that you seem get so 'caught up' in 'keeping up' with your life that you tend to forget about yourself?
I often hear people talking about how tired they are…how busy they are…how they wish they could have a break, some down time…
I had an unusual twist of fate on the weekend, with all three teens and the hubby coincidentally "out" at the same time. I found myself in the unusual circumstance of having "nothing in particular" to do with myself. Until I was in this position it hadn't occurred to me that it wasn't a regular event. I had to apply some major brainstorming to work out what to do in this situation. (Yes – I agree – it's terribly sad really!)
Needless to say, I did come up with a suitable way to make the most of my down time. Lying on a rug in the sun with a good book and a chilled glass of chardonnay, I spent a blissful couple of hours immersed in Keith Richards' world instead of my own. (Courtesy of his autobiography , Life.) In between the chapters I enjoyed my own company and some long overdue self reflection. It was great.
It also got me to thinking…
When do we put ourselves first these days?
I overheard an associate recently talking about a weekend retreat she had organised with a business colleague, and how much she had enjoyed just relaxing with no phones, computers, television etc. She could not even remember, prior to this, the last time she had taken time out for herself.
Another business contact related to me how busy and exhausting his life was, and then continued on to describe how his yearly holiday with family is so "full on" that he comes home just as tired as he left. In other words…it's not really a holiday at all.
What is it about modern day life that has us all convinced that we must be busy all the time?
For some it's juggling family and work commitments. For others life is jammed full of social activities, networking and "being seen" here there and everywhere.
We must be successful in our careers, committed to family, physically fit, socially active, give back to the community, active learners. Good grief! I'm exhausted just writing it all down!!!
We need to be super heroes to live up to ourselves!
The ironic thing is – it's ourselves who get lost along the way…
When was the last time you took time out, on your own, just to BE? Just to sit and watch the waves crashing onto the shore or look up at the sky and watch the clouds roll by? To ponder, where you are in life, where you want to be, what you love, what you don't, who you are, where you are headed?
It's been a while, I'm guessing.
Do yourself a favour this week…set aside a half hour somewhere in your day…just go somewhere peaceful, and enjoy your own company…reflect on where you are , where you want to be, and mostly Be You…With You.
You might be surprised what you find out,
because like everyone around you, you may have been so busy 'doing' your life you have actually forgotten that YOU are even in it!
Choose not to be part of Generation "overdone".
Allow yourself to stop and have a break. You are worth it! So take the time. Get some balance back…and put YOU first!
If you would like to change the direction your life is heading, reduce the stress and chaos, create a balance and live the life you REALLY want to live, we can help. Contact us at Be Ultimate to find out more about our Individual Coaching Programs. Sydney location, with Phone or Skype available for out of area.