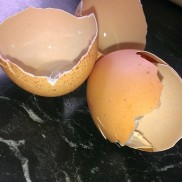 Do you fly off the handle at the slightest provocation?
Do you keep your anger in, so it builds up like a pressure cooker until one little thing pushes you over the edge and you blow your lid?
Do you explode at the nearest person and vent your rage and then realise later, after the damage is done, that you were totally out of line and said things you can't take back?
Perhaps you contain your anger? Keeping it to yourself? Secretly seething on the inside, but not saying a word. Over time the resentment builds while you continue to wear that smile on your face.
Have you cracked it lately?
All of the above examples are un-resourceful , destructive versions of anger. They aren't helping or serving anyone or anything. They are harmful to the people around you as well as to your own self esteem.
Anger is a necessary emotion. We need to be able to defend ourselves, be assertive and stick up for what's right. We need to have a way to communicate our displeasure or lack of agreement in a conflict or confrontational situation. We need to be heard. If we don't, we may feel dis-respected, under-valued and insignificant.
So how can we be assertive and forthright without being destructive?
Here are some tips to help manage your anger in a resourceful manner, constructively.
1. TAKE A BREATH AND COUNT TO TEN BEFORE YOU REACT
Often your instant reaction is exactly that, a knee jerk. Take a breath and give yourself a minute to think before you speak or act. A considered reaction can be quite different from your original explosive impulse.
2. REMOVE YOURSELF FROM THE SITUATION
Give yourself a time out. Go outside or away from the conflict for a few minutes. This gives you time to calm down and think more rationally. Emotions need time to settle so we can think clearly. Then you can return and say what you mean, instead of what comes out in the heat of the moment.
3. FOCUS ON YOU – NOT THEM
Often anger is directed at the perceived wrongdoer. "How dare they" or "that idiot". Turning that conversation inwards, can deflate the negative emotion quite quickly.
Tell yourself "I can handle this" "I'm not going to lower myself to that level" or "I can think about this for a while and have a conversation later when I cool down". Notice how deflecting the anger takes the heat out of the equation.
4. RUN A REPLAY IN YOUR MIND
Sometimes when we jump the gun, we miss the true message along the way. Is it possible that you are misinterpreting the message or the intention of the other person? Ask for clarification to be sure you have the right end of the stick. Many conflicts are simply misunderstandings that can be avoided by re-examining or reframing with a follow up question.
5. UNDERSTAND THE DIFFERENCE BETWEEN ANGER AND ASSERTIVENESS
It is important to say what you think and speak up for yourself. Being assertive means getting your message across but without emotional weaponry attached. Assertiveness does not require insults, raised voices or accusatory tone. Keep your voice calm and state your case clearly. You are much more likely to diffuse the situation quickly and reach a mutually beneficial outcome.
6. IF YOU NEED HELP GET SOME
If you honestly feel you have lost control of your anger, or it is eating away at you from the inside, seek help. Don't try and manage it alone.
Practice makes perfect…so instead of cracking it…
Give these methods a crack instead!
Be Ultimate can assist clients to let go of unhealthy anger and other negative emotions.
If you feel you need help, contact us today for more information. Phone Cheryl on 0418 490 422 or email info@beultimate.com.au.