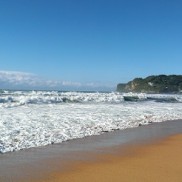 Most of us live high pressure busy lives. Deadlines, juggling multiple tasks and time constraints are part of an average day. We get caught up in the cycle and it is easy to become fatigued and overwhelmed. Often our bodies will attempt to physically slow us down with headaches or illness. It is important to listen. Our minds need to disconnect from the craziness of life sometimes. To unplug, unwind and recharge. Restore the natural energy levels.
How do you recharge?
For me, the ocean is my energy source. Even a couple of days at the beach, to just sit, watch the waves crashing onto the sand, breathing in the salty air, absorbing the power and energy they create. No traffic, no timetable, just being.
I have friends who like to go bush. They recharge in the rugged wilderness, hiking, camping and being surrounded by nature. They love the peacefulness of the forests and mountains, where the only company is the occasional wallaby or possum and the sounds of the birds in the trees. They come back refreshed and energised.
For some meditation is the answer, easily practiced on any day of the week, or Yoga, or Tai Chi. Others find release in music or art, whether it be creating or enjoying the talents of others. A book can give you hours of downtime from "real life" if you pick the right one.
It doesn't really matter how you choose to recharge, the important thing is that you do.
Our bodies and minds are like cars. They can't keep running without a service every now and then! We need to make time to top up the oil and pump some air back into the tyres, or before we realise it we will break down!
Make time for yourself. Allow yourself time to pullover. Recharge your energy.
It doesn't have to be weeks or days, even an hour will make a difference.
Unplug yourself from the day and relax.
You are worth it!
Need some help getting a better life balance?
Contact us today at Be Ultimate to find out about our Individual Coaching Programmes.