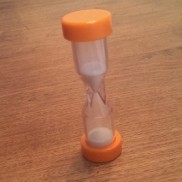 Let's face it; we all hate to be kept waiting!
Want proof? Try checking out the faces of the people in line at the bank, the queue at the supermarket, or stuck in traffic at peak hour. Not happy. Notice how frustrated you become when you make a telephone enquiry and have to sit for ten minutes listening to a recorded voice telling you at ninety second intervals, "your call is very important to us," while your life ticks away.
We are a generation of "instant gratification". We want results now!
Which is why I am constantly surprised by how long people will "put up with" a job they can't stand, a partner they despise, a body they are unhappy with and a multitude of other life choices that really aren't working for them anymore. I'm talking about years of tolerating unhappiness, unfulfillment and disappointment, in others and themselves.
How long are you prepared to wait? I ask them.
If you are still in the same life situation in three years is that OK? How about five? How about ten or twenty? How much pain, blame and resentment can you tolerate before you take responsibility for your own happiness and make some changes?
YOU are in control of your destiny!
YOU are in control of your choices!
If something in your life is not working…is not serving you, growing you, moving you towards your goals then step up and do something about it! Anything!
It doesn't have to be a huge change, just take that first step. Do something differently, investigate your options. Just recognising that you have other possibilities available will make you feel more empowered.
You can take action, or just sit around wishing…
Consider though,
HOW LONG ARE YOU PREPARED TO WAIT to start living the life you REALLY want?
If you are ready to take control of your life and make some changes but aren't sure how to begin, contact us today for more information on our Individual Coaching Packages. https://beultimate.com.au/contact/