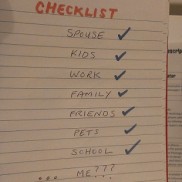 Do you find it difficult to say no?
Never have enough time in your day?
Do you go out of your way to take care of the people around you? Cater to their needs?
Are you too easy going, keep your opinions to yourself, basing your happiness on the happiness of the people around you?
If so, I'm willing to guess that you also regularly find yourself feeling exhausted, taken for granted and unappreciated?
We teach people how to treat us.
If you value yourself and treat yourself with respect, the people around you will treat you with value and respect also. However, if you are constantly treating yourself as the lowest priority, putting the needs of others ahead of your own, chances are they will do the same. They will begin to assume that you will step in and do what's needed. They will assume that you don't mind missing out if there aren't enough "whatevers" to go around. They will assume that you will clean up after their messes. Over time you may become frustrated, resentful and even start to question your own self-worth.
Have you been putting yourself last on the list?
Do not let another day go by where your dedication to other people's opinions is greater than your dedication to your own emotions!
Steve Maraboli
When was the last time you put yourself and your needs first?
I'm not suggesting that you ignore the rest of the world and become totally self- absorbed. That would not be resourceful. What I am suggesting is that you consider how and when you prioritise yourself? Is it often enough? Is it ever? Is it time to start?
If you want to be respected by others, the great thing is to respect yourself.
Only by that, only by self-respect will you compel others to respect you.
Fyodor Dostoyevsky
Are you taking care of your physical health? Getting sufficient sleep? Do you spend time on a hobby or leisure activity regularly? Do you have quality social time with friends, where the only expectation is for the pleasure of your company?
If you decide that YOU ARE WORTH IT…so will those around you!
But how can you make that happen?
Here are some tips to get you started…
Exercise regularly, eat healthy food and get enough sleep. Take time out to relax and recharge.
When your body feels great, your mind follows. You will feel better about yourself.
Set some boundaries. No one takes advantage of you. You choose to allow them to.
Put some limits around what you will and won't do, when you are and aren't available.
Learn to say NO!
It's such a tiny little word, but so many people are afraid of it.
People might get a bit ruffled up at first, but they will learn to respect your time and your value.
Add some FUN to your life!
Book a massage, a holiday, a visit to the gym. Buy yourself a new outfit or some sexy underwear that makes you feel extra special. Go play golf, read a book, go see a movie that YOU choose for yourself! Take a day off!
Changes will start to happen. If you take care of your body, you will have more energy and feel more positive. If you set boundaries and begin to say no, people will begin to value you more and treat you with more respect. Your relationships will improve as they become two-way, instead of one-sided. If you are having more fun you will smile more often and enjoy your life more. Your self- esteem will also improve as you begin to realise your own worth and the people around you will reflect that too!
Don't wait. Start today!
You yourself, as much as anybody in the entire universe, deserve your love and affection.
Gautama Buddha
Need help working out how to create some boundaries in your life? Problems with self- worth and self- esteem? Contact us today at info@beultimate.com.au or 02 8011 4114 to find out about our Individual Coaching Packages. Make a change in your life today!