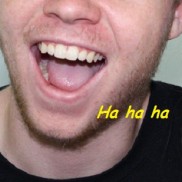 Repeat as often as possible!
When was the last time you laughed uncontrollably? I don't mean a chuckle or a giggle. I'm talking about rolling around on the floor, tear streamed cheeks, just can't stop, belly aching laughter.
Was it recently? Does it happen all the time? Or are you struggling to remember?
Laughter, much like smiling, is one of the greatest free gifts we can give ourselves. Laughing sets off endorphins…which tell our minds that we are happy. It stands to reason therefore that the more we laugh, the happier we will be in general. Endorphins don't have a 30 second time frame…they hang around for a while. Smiling has a similar effect but on a smaller scale, so a good laugh is of greater benefit.
An off the cuff one liner in a stressful situation can create spontaneous giggles and release the pressure for everyone involved. Why do you think speakers always open with a joke? The audience laugh, they immediately relax and become more receptive to whatever information is being delivered. The speaker also laughs, and is then in a much more comfortable frame of mind to deliver his speech. Win Win!
I have a younger brother who used to infuriate me when we were children, on a regular basis. Unfortunately for me, he was a master of laughter manipulation. I would be in full "rant mode" over some rotten thing he had done to me and he would suddenly say something completely ridiculous like "did you know elephants can pee for 20 minutes non- stop." I would of course burst into laughter. By the time I stopped, my anger would be gone and he would be off the hook for whatever darstardly deed he had committed. Smart kid my brother. Keep that strategy in mind next time you need to diffuse a tense situation with a child of your own.
We can also use laughter on ourselves to alter our own emotional responses. Think of occasions where something has gone wrong, perhaps you slipped and landed smack on your backside, or you knocked a pile of papers off your desk and they ended up in disarray on the floor of the office….what if, instead of getting angry, humiliated, frustrated…you had taken a deep breath and laughed! Out loud! Had a laugh at yourself and what a clutz you are. Much better for you than negative emotions and chances are that others around you will join in.
I'm sure you have all heard the expression, "you will look back and laugh at this later. " My suggestion is don't wait for later…start now!
When people have a laugh together it creates a bond. A common amusement over something suggests to us that we think the same way. We all love to connect and a shared sense of humour certainly contributes. Teambuilding exercises often include silly activities that will generate hilarity amongst the participants and thus build on their level of connection.
Youtube has millions of hilarious video clips. (I know this because my teens are constantly forcing me to watch them). There are generations of successful comedy shows and movies, from Charlie Chaplin and the Keystone Cops to The Simpsons and The Big Bang Theory. Even newspapers run comedic comic strips. Why? Because we all love to laugh!
Laughter makes us feel good. Laughter diffuses tension. Laughter releases stress or embarrassment.
Laughter brings us closer together.
So whether it's with a joke, a passing comment, a book, a tv show or a friend…have a laugh today…and tomorrow…and the next day…
Make it a habit.
You'll be glad you did.
Laughter really is the best medicine!!!
If the laughter is gone from your life and you'd like to change that, we can help. Contact Be Ultimate today to find out how. https://beultimate.com.au/contact/