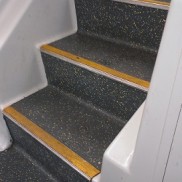 You've set your goals for the year, so you know where you are headed.
They are big, exciting and you can't wait to reach them, but what do you do next?
Where do you begin? There is so much to achieve!
It can be quite daunting looking at those lofty targets, overwhelming even.
Imagine looking up an enormously high flight of stairs and seeing a giant pot of gold at the top. You want to leap straight to the top and grab that gold, but the reality is that you aren't sure you would be strong enough to carry it, let alone have enough energy to climb that many stairs! You might even be tempted to give up before you begin.
Here are some tips to help you keep your doubts in check, your goals in sight, and start moving towards them, one step at a time.
Chunk your goals down
Once you have created your goals for the year, it is important to chunk them down into smaller goals. Six month, three month, and one month goals will lead you to the final result, in manageable steps. This will also allow you to build up your knowledge, skills and resilience as you go.
Take it step by step
Plan well and take one step at a time. Don't skip things, or look for the easy fix. If you try to jump ahead you are likely to slip or lose your footing.
Keep your balance
Make sure all the areas of your life are in balance. All work and no play will wear you out. If you are going to make it to your big goals you will need to take breaks to rest and recharge. Take care of yourself and your footing will remain sure and strong.
Learn from your stumbles
As you work through the smaller goals you may lose your footing here and there. It's OK to slip up and make mistakes. That's how we learn. The more you learn the easier the climb will be. So give those bruised knees a rub and keep on going! You will learn how to hang on when things get wobbly and your legs will get stronger as you tackle each new step.
Get a cheer squad
Everyone feels an extra burst of energy when they have someone cheering them on. Share your goals, share the journey. Surround yourself with people who give you support and encouragement.
Celebrate the milestones
Enjoy your successes. Celebrate each milestone as you achieve it. Keep your eye on the outcome but acknowledge how far you have come and what you have learnt and accomplished along the way.
Most of all, keep on going!
Persistence is the key to success.
You don't have to rush…just keep taking one step at a time, and all of a sudden, before you realise it, you will have reached your goal. That pot of gold will be in your hands, and it will be time to start thinking about next year's goals!
There is no one GIANT step that does it. It's a lot of little steps – Peter Cohen
Need some help developing your goals, creating your steps and planning for the year ahead?
Contact us today to find out about our Goal Setting, Coaching, Mentoring & Workshops.
Phone: 0418 490 422 or 02 8011 8114
Email: info@beultimate.com.au