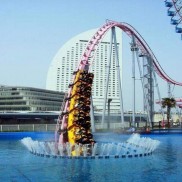 Is your life taking over, and you are battling just to keep up? Instead of you controlling your life is it controlling you? Feel like you are riding a rollercoaster that just won't stop?
I regularly hear people around me saying things like, "I would but I don't have time…I just didn't get a chance…life is just so busy…there are only so many hours in a day."
As a business owner, wife, and mother of three teenagers (yes three!) life can be pretty crazy in my world. Each teenager has after school activities, and of course they are all at different places on different days at different times! Throw in social activities, school events, parent/teacher nights, doctor and dentist visits, eye checks, weekend sport etc …well – I think you get the picture! Oh, and by the way did I mention they are at different schools?
So, I assume most of you can relate to this…whether you are a parent or not, life just seems to fill up with more and more stuff!
Has it always been that way? Can you remember a time when life was "less"? When you had space to just chill out, read a book, take a stroll? How did you feel then? Were you stressed, overdone, tired? Probably not.
Believe it or not, we actually make a choice to live in chaos, and believe it or not, we can change it.
Is it possible that you are so caught up in "doing" your life you may be forgetting to "live" your life??
I would love to share with you the strategies I use, to enable me to deal with the chaos and still have time for health, fun, downtime…or in other words "balance." Not only can you achieve a happy and fulfilled life in the present, but you can have lots of room for future planning and goal setting as well!
Sound like something you would enjoy?
Are you ready to make a change and take back control of your life?
Contact Cheryl at Be Ultimate to find out about our Individual Life Coaching Programs.