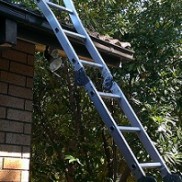 Do you find yourself working really hard on your business/career/finances, but can't seem to break through to the success levels you need? Are you guilty of procrastination or deliberately keeping yourself busy with the little stuff, instead of the things you really need to work on? As much as you dream of making it big, does the thought of actually getting there give you the shivers?
It's possible you are Scared of Success. Being afraid of success is very common, and can be the cause of many self- sabotaging behaviours. Part of you wants to make lots of money, gain recognition and feel the sense of accomplishment, the other part is scared to death that you might actually manage to do exactly that!
Interestingly, fear of success is actually the complete opposite. It is really a Fear of Failure. Therefore, it's not the money, prestige and success we are afraid of, it's the "what if I stuff it up" that creates the anxiety.
Think of your career/business success as a ladder. When you start off, it's like climbing the first one or two steps. You are barely above the ground, so you feel strong, confident and safe, the risk is minimal. If you slip or lose your footing it's easy to just start again.
As you gain momentum, income, credibility, you might be a third of the way up the ladder. Everything is going along quite nicely, you know you are doing a good job and your knowledge and income is growing. You feel in control. Although you are a little higher above the ground, you aren't really in any danger if you fell, and you could probably land on your feet, start again and still be OK.
It's when things start going really well that it gets scarier. The higher we climb, the further we can fall…If you keep climbing to the top of the ladder it's a long way down! If you fall you will get hurt. People will see. There might be financial loss and your pride will be dented. You might not land on your feet. In fact, if you are badly injured, it could be very difficult to climb back onto the ladder at all after such a big drop. The fear is real.
So how do we keep ourselves on the road to success without the fear of failure getting in our way?
How do we avoid getting stuck halfway up the ladder?
1. Set Clear Goals
Keep your eyes on the prize! Know what your goals/outcomes are.
When you are looking up your focus is on the positive. It's only when we look down from the ladder that we realise how high up above the ground we are. So no more looking down! Always look towards where you are heading.
2. Take it Step by Step
Plan well and take one step at a time. Don't skip things, or look for the easy fix. If you try to take two steps at a time you are more likely to slip or lose your footing.
3. Keep Your Balance
Make sure all the areas of your life are in balance. All work and no play makes for a weary and inattentive ladder climber. Keep balanced and your footing will remain firm.
4. Learn From the Setbacks
As your experience grows you will learn which are the slippery steps and which parts to hang on to when things get wobbly. Until then, remember that if you are uncertain then you must be learning. If you make mistakes, you are giving things a go. The more you learn the easier the climb will be overall. So mistakes are a good thing.
5. Celebrate
Enjoy your successes. When you reach the top, enjoy the view…
You've earned it!
Need someone to steady the ladder for you, help you fight the fears, and set those goals?
Contact us at Be Ultimate today. https://beultimate.com.au/contact/