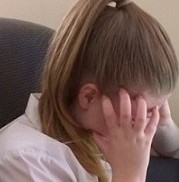 Do you ever visit that nasty place called Overwhelm?
Perhaps you find yourself there often?
Once you arrive do you find you have lost your way, can't think straight, and don't know how to get out? Do you start to feel stressed, anxious, frustrated? Do you find yourself caught up in self- doubt, questioning your own abilities and worth, beating yourself up?
Perhaps you get so stressed you avoid doing anything at all, because it's just too much to get your head around? Or perhaps you find something else to keep yourself busy so you can avoid the task at hand?
I myself am great at that particular trick. I have been known to write fabulous blog posts, tidy my desk, and vigilantly check on my social media platforms, whilst skilfully ignoring the challenging business proposal I should have been attending to.
A.k.a. "Pretending to be busy and productive so I can avoid being busy and productive".
When you visit overwhelm, it's easy to feel like you are out of control. The words "too much" "can't do it" and "not enough time" are swirling around in your head and you can't see a light at the end of the tunnel.
However, there are some simple tricks you can use to bring yourself back to a state of calm and control. So you can see more clearly how to address the issues at hand and come up with solutions instead of stress. Follow these and you will find that light at the end of the tunnel, without ripping all of your hair out or blowing a fuse.
Firstly, take a deep breath and step back. Take yourself out of the situation. Go and get a drink of water, take a walk around the block, or just go and look out the window for 5 minutes. Things always seem worse when you are in the middle of them, and even the greatest scholars can't think straight in a state of anxiety. Give your mind a break and a chance to calm down.
Next, assess the task as whole then break it down into smaller pieces. If it still seems overwhelming, break those pieces down into even smaller chunks. Soon you will have a whole lot of little jobs to do, instead of one giant daunting one. Much better!
Then, prioritise the pieces and start at the top. Action one small piece at a time. Before you know it you will have several pieces completed and you will be on your way to reaching your goal.
Lastly, ask for help if you need it. . If you can delegate, do it. People love to help! Think about it, how do you feel when someone asks you to lend them a hand? You feel great, needed, valued. So do someone a favour and give them the gift of contributing, if the load is too much for you to tackle alone.
Before you know it, you will have left Overwhelm and travelled to Clarity, Focus, Productivity and Achievement. Much nicer places to be, don't you think?
It really is that simple!
With practice, overwhelm will be a long lost memory and you'll be smiling your way through whatever life throws your way!
Happy travelling.
If you need help to get on top of stress or overwhelm, we can help.
Contact us at Be Ultimate today to find out about our Individual Coaching Packages.