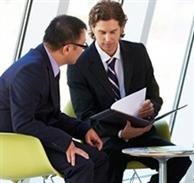 Do you have difficulty delegating?
Do you find that you often end up doing tasks yourself because it's easier than trying to teach someone else, or having to go back later and fix it up?
If this sounds familiar, you're probably overloaded with work. You're probably feeling stressed a lot of the time and you really are creating a rod for your own back. The good news is, that it's possible to delegate without losing control. You don't have to hand everything over and relinquish all responsibility for it.
It doesn't have to be a stressful or messy process.
Let me introduce you to: The 4 D's of Delegation.
1. DO SOME OF IT – and delegate some of it.
There are tasks that you currently do alone and need to, but I'll bet there are small parts of the process, that you could get someone else to assist with. Baby steps! It may be under your watchful eye, but allocating even small pieces will give you a chance to loosen your grip and focus on the rest of the process, whilst maintaining control. Over time you will become more comfortable and the pieces you pass on will get bigger.
2. DELEGATE most of it – but supervise.
These are tasks which you really should get someone else to do, but they need to be done to a particular standard or accuracy level, so you have been reluctant to do so. Begin with 75%. Delegate most of the task, but continue to oversee and advise. When it comes back you, give it the once over, tidy it up, tweak the bits that need tweaking and finish it off. Give positive feedback and encouragement. Eventually over time, there will be no tweaking to be done and you may be ready for D3.
3. DITCH IT
Stop being a martyr and just pass some stuff on. No, it may not be completed to your standards the first few times, but "News Flash" – people don't learn if you don't give them the opportunity. Your staff maybe more capable than you give them credit for and they might surprise you and come up with new and innovative methods that you haven't even thought of. Notice how proud you feel when they get it right!
4. DEFER
If there are things on your task list or schedule that aren't part of this week's requirements, get them out of sight. Create a "next week" in-tray or file. Write them in next week's diary and then put them out of mind. As the pile/list gets smaller you will feel the pressure drop.
Reflect, as you look at today's schedule, and think about the 4 D's. Weed out some of those tasks. Notice which pieces you can partially or completely delegate. Give the people around you the chance to step up. After a few weeks you will notice that you have more time on your hands, less stress and more energy for the tasks which remain.
Enjoy!
Cheryl Alderman
Business Coach/Mentor & Life Coach
beultimate.com.au