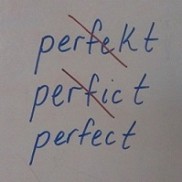 The definition of Perfectionism:
A propensity for being displeased with anything that is not perfect or does not meet extremely high standards.
Perfectionism can be a great attribute in certain careers. Engineers, nuclear scientists and heart surgeons, for example, require minute attention to detail and mistakes are costly if not fatal.
In everyday life, however, the pressure of having to live up to over-inflated and unrealistically high standards often leads to stress, frustration, overwhelm and high levels of self-doubt. Self-sabotage goes hand in hand with perfectionism, and procrastination is its regular companion.
How high do you set your bar?
Is it set at a challenging but attainable level, or, is it so high up that you don't have a chance of ever reaching it?
If you set your bar too high, you may be a perfectionist.
What probably happens on a regular basis, is that you find yourself turning things over and over in your mind, planning, re-planning, stressing about them, coming up with plenty of useful distractions to avoid taking action, and using up so much energy that you eventually give up on the task before you even begin.
You may also be great at putting things off until the last minute. Are you a master at finding ways to keep busy, so as to avoid the task at hand? Is there always a reason or excuse as to why you don't have time to get to it. Are you a last minute Larry? With your back against the wall and limited time to get the job done, you have the perfect excuse if things don't turn out as well as you hoped. How could they, given the constraints?
As you run this pattern over and over, striving for beyond best and inadvertently sabotaging yourself, your mind is attempting to keep you safe from failure. Ironically, failure is inevitably the result.
By not completing tasks, or doing them under pressure and time limitations, you can pretty much guarantee you won't live up to your own standards. It's a lose-lose situation.
The pressures of perfectionism give self- esteem a beating, and self- doubt takes over. You begin to lose faith in your own abilities, constantly second guess yourself, assume you will fail before you even begin and eventually just won't bother trying. It's not a fun way to live.
What if you lower the bar just a bit? Give yourself a chance to succeed?
By aiming a little bit lower, you create the possibility of achievement, build up that self- esteem, and move gradually towards the level of success you want. You enable yourself to acknowledge your victories and learn from your mistakes. These are the things that help you grow as a person.
Think of your life as a diving lesson. You wouldn't go straight to the top to the high board on your first attempt at diving. That would be far too risky. You might stand at the bottom for a while contemplating it, watch others do it, but chances are you wouldn't be the one up there diving off! More than likely you would start at poolside level and practice-practice- practice, noticing how you improve and feeling encouraged and self- satisfied. Next you might give the low board a try. Practice- practice- practice some more. Your confidence would increase and you would start looking for greater challenges as your trust and belief in yourself improved. Before you knew it, you would be doing triple turns from the very top high board!
Test it out…apply this principle to your life.
Start easy. Set the bar at a comfortable level. Enjoy your successes. Build up your confidence and move the bar up as you grow. Watch how quickly you start knocking over those obstacles, finishing those tasks and feeling great about yourself. Accomplishment is a powerful motivator.
Say goodbye to the problems of perfect and discover the power of achievement!
Feeling stuck in your perfectionism and want to change? Experiencing self doubt or low self esteem? We can help. Contact us at Be Ultimate today. https://beultimate.com.au/contact/