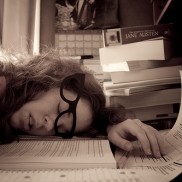 Are you busy all the time?
Do you have to tick off everything on your list before you sit down for a break…but the list is never done? Do you find yourself regularly working after hours or in the weekend?
Is it possible that you are using your work as an excuse to avoid spending time with yourself? If you stop working, and just be, you won't be able to avoid your own thoughts, your own feelings and insecurities. You will be forced to spend time in your own head.
Leisure is only possible when we are at one with ourselves. We tend to overwork as a means of self-escape.
Josef Pieper
If there are things going on in your world that you are avoiding taking responsibility for, or that are too painful to contemplate, it is natural for your mind to find a way to protect you. Keeping busy is the perfect productive way to avoid the unpleasant. If your mind is occupied with other things you don't have to focus on self. You can successfully avoid change, decision making, choices and confronting emotions. Plus, you can totally justify it to yourself and others, under the guise of commitment to career, ambition or wealth creation.
The only problem with this method is that your thoughts don't go away!
In fact they are lying in wait for you the entire time. They are lurking around like shadows in the background, just out of sight. And they grow! The more you avoid facing up to them the bigger and scarier they become. Then you have to find even more ways to stay busy, work even longer hours. It's a never-ending cycle. It's exhausting and impossible to sustain on a long term basis.
Consider though, what would happen if you allow yourself to stop avoiding?
What if you choose to stop running away from yourself?
Give yourself some personal space, some leisure time. When you take time out, you can reflect, think, and assess situations more clearly. You are able to deal with the issues, make decisions and feel what you need to feel, without pressure.
Notice how empowered you feel when you are taking responsibility and addressing problems, instead of avoiding them. How much smaller they seem. Notice how having time to reflect on your feelings and life gives you better perspective and clarity.
Notice how much lighter you feel, how much less pressure there is, how much easier everything seems. Notice how the need to be constantly busy seems to be fading away.
Peace of mind arrives the moment you come to peace with the contents of your mind.
Rasheed Ogunlaru
Make the decision to stop avoiding yourself!
Take time to make time for personal space…for YOU!
Spend some quality time with yourself. You are worth it!
Need some help addressing your problems or gaining perspective?
Contact us today to find out more about our Coaching Packages. https://beultimate.com.au/contact/
Photo Credit: Jessica Cross – Exhaustion : https://www.flickr.com/photos/jesscross/