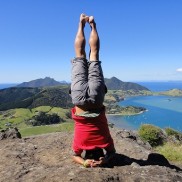 Life has a habit of throwing tough times in our way.
It might be in the form of relationship difficulties, divorce, financial stress, work pressures, kids or just the strain of a busy lifestyle. Sometimes it all just gets too much, but we push it to the back of our minds and just get on with it.
But, do you ever find yourself wondering why that perky guy in marketing is so damn happy all the time when you are struggling just to get through the day? Why a workmate seems so calm when you feel like your head is exploding and the pressure is just too much? How people have time to go to the gym, or the movies, when you don't seem to ever have a spare second for anything?
Is it that they have a healthy organic diet?
Are they are secretly billionaires in disguise?
What do they know that you don't?
Have you also noticed how some people can experience terrible hardships, and yet they still seem to always have a smile on their face?
My 18 year old son has a close friend with Crohns Disease. This young man spends a great deal of his time bed bound in hospital, on restricted or liquid diets and suffering frequent pain. Yet if you met him, as I have, you would find him to be happy, gracious and fun loving, never complaining about any of these issues or how they impact on his quality of life. Instead he embraces every day with enthusiasm and cheerfulness which must be contagious, as he also has a large group of friends.
So what does he know that we don't?
Recently I was discussing work overload with a client…and he expressed that he considered asking for help a weakness, so he felt that if he asked for assistance his workmates might think less of him. This is a belief I often hear from clients. After some discussion he agreed that delegation was not weak, in fact it was a managerial behaviour that would reflect on him as being in control and confident. Simply changing the name from help to delegation, changed his perception completely.
So is the secret that my son's friend and the other "happy" people out there know, that it's all about perception?
Partly. However, it may surprise you to find out that what they also know is that they have CHOICES.
Puzzled?
Let me explain. The way you live your life is a choice. It may not seem that way, and you may tell yourself you don't have a choice regarding your situation, but the reality is you do. Every task you undertake you have made a choice to do it. Every reaction and emotion you experience you have chosen to have. Everything you say, everything you do, the perception you have of a situation is the perception you have chosen to have at that time, either consciously or unconsciously.
Sometimes because we are IN the situation we can't see those choices, even for looking. We are too close to the issue. Sometimes we do see the choices but pretend not to, because it is safer to be unhappy in the familiar, than to make a move into uncertainty. Sometimes we are so busy being logical and practical, or putting others first, that we don't listen to our own feelings and lose ourselves along the way.
The good news is that you can make a CHOICE to make a CHANGE.
To take that first step, have a look from the outside and see what choices you are currently making to create the life you are in. Imagine you are looking in at your life through a window, how does it look from there? Next, allow yourself to realise that it is OK to ask for help. Sometimes you are so good at hiding your true feelings that no one actually knows you aren't coping, because to the outside world you seem in control. It takes a strong person to reach out of their comfort zone towards something new. It takes courage and determination to change your perceptions and beliefs, to make the choice to make changes in your life.
You don't need to take giant leaps. Allow yourself to take a good look at what's really going on, if you need to, ask for help, and start making some small changes. It may not be easy, but you are strong and courageous, so you know you CAN. You may be surprised at how quickly each small change can have a large impact on your life.
Each new step you take will move you closer to a new you.
Who knows, maybe soon, you will BE that perky, happy person, the calm assured one, heading off to the movies or the gym, with a skip in your step and a smile on your face. You will know that YOU too have CHOICES!
If you would like to change the direction your life is heading, reduce the stress and pressure and live the life you REALLY want to live, we can help. Contact us at Be Ultimate to find out more about our Individual Coaching Programs. Phone/Skype Coaching available for areas outside of Sydney. https://beultimate.com.au/contact/