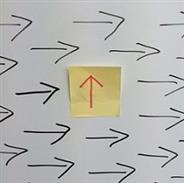 "The definition of insanity is doing the same thing over and over and expecting a different result."
-Albert Einstein
Are you happy with the results you are getting in your life?
In your career? Your relationships? Your finances?
Have you noticed yourself feeling dissatisfied or frustrated on a regular basis?
Then you are probably ready to start changing your results.
This means you need to start changing the way you do things.
Life is like a river. If you block its normal flow it will find a new pathway, create a new channel to flow through. If you make changes in your life, you will discover new things to see, feel, experience and learn. This will create changes in you, leading you to make, different choices and decisions and eventually create different results. It's all about opening up your perspective and adding new information.
The good news is, it doesn't really matter what you change, so long as you begin and continue to do so.
Are you in??
Give it a shot for a few days and notice what happens. It's time to change things up!
START SMALL. Here are some suggestions to start you off:
Pay with cash instead of card
Drive home from work a different way
Get your coffee from a different café
Sleep on the opposite side of the bed
Get up half an hour earlier and watch a TED talk or go for a walk
Have a sandwich for dinner and a hot meal for lunch
MAKE AT LEAST ONE CHANGE each day.
NOTICE what you see, hear, feel, who you meet and what's different.
EMBRACE the weird feelings and discomfort.
CONTINUE for one month
Moving yourself outside of your natural comfort zone will switch your mind into high gear. Things will begin to happen. Different things. When things start to happen the process begins, and before you know it you will start to see changes in yourself, your decisions and your results!
(Oh – and let us know what quirky changes you come up with…we'd love to know.)
"Your life does not get better by chance. It gets better by change."
-Jim Rohn