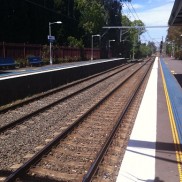 Do you know where you are heading? What direction? Do you have specific goals you are moving towards? Or are you stuck on the platform watching everyone else go past on their journey, off to new exciting places, because you can't decide which way you want to go?
Are there are so many choices that you get overwhelmed and end up going nowhere? Perhaps you are too afraid to climb on board in case the train isn't headed to where you expect?
Maybe you are actually on the train, but it's the City Circle route, so you just go around and around and around, stopping at the same stations over and over again, and you still don't end up anywhere new. Perhaps you stay on that same train, even though you are bored and uninspired and people you don't like come and sit next to you, because at least there you feel safe in the familiarity of your same spot every day. Getting off is risky, you might choose the wrong station, or get lost…
Ok, in case you haven't worked it out yet, I am not really talking about trains…
Our brains are wired to keep us safe from risk, from fear, from failure. As such, it is very easy for us to fall into a pattern of life that is familiar, comfortable and predictable. Unfortunately to stay in that safe place it also means we stop moving forwards. In order to achieve our potential, our goals and our dreams we must continue to grow. Growth requires learning, change and often uncertainty, all of which our brains are conscientiously working to avoid.
Self Doubt, procrastination and self sabotage are all mechanisms which are designed to prevent us moving forwards, to keep us in the same place. Whether they happen consciously or unconsciously they can easily become patterns we act out over and over again. The trick is to outsmart our minds and just take action!
Even the most confident and successful people feel fear and self doubt. The difference is they continue on regardless because they have goals…they are moving towards something. They understand that to find out what they can really achieve they have to make a choice to go and find out…to act…to do something!
Is there an area in your life that you know should give attention to but you keep avoiding it? Do you have something you have always wanted to do but talk yourself out of it? Do you catch yourself looking at other people's lives and wishing yours was better? Maybe now is the time to find your direction?
Have you had enough of being stuck in one place? Are you ready to make a change?
Go ahead, jump onboard the next train!
Get off that safe seat and choose a station!
Who knows what exciting places you could end up in! There are so many people for you to meet, adventures to have, goals to achieve, and so much more of your own potential to discover!
The best of life is yet to come…so let's get started!
Full steam ahead!
If you want to get your life back on track or work out which direction you want to take, we can help. Contact us at Be Ultimate, today, to find out more about our Individual Coaching Programs.